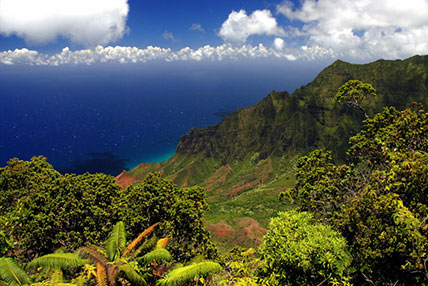 TALES FROM KAUAI – Kalalau – Hiking the Na Pali Coast Kalalau trail and camping at Kalalau beach is perhaps one of the greatest experiences in my life. The trail is notorious as one of the most difficult hikes in the world earning its 9 points out of 10 by the Sierra Club. It's coveted by many global backpacking travelers. Na Pali, meaning "The Cliffs" in Hawaiian, snakes along the rugged North Shore coastline of Kauai, my beloved island home for 12 years.
HIDDEN BEACH – The trailhead opens at Ke'e Beach climbing and descending for the next 11 miles along vertical switchbacks, strong-current river crossings, mud slippery narrow paths, and cliff edge drop offs straight down to the ocean breaks far below. After a full days strenuous hike reaching the destination, my grueling journey gains its reward; behold the pristine Kalalau Valley and its hidden silken sand beach. Waterfalls are pouring down thousands of feet out of white foggy mist gathered there among the soaring cliffs. The towering monuments appear covered with velvety blankets of deep moss designed for collecting billows of rain. Hovering over the-days- end, night begins to merge the sea and sky together again as trillions of stars canopy my weary bones into a deep nights rest.
OCEAN PORCH – There, crashed along the coral-sea ledge, hues of lavender, pink, turquoise, and resinous gold dissolve leisurely across the departing night air. Morning Star sparkles out from her purple veil waking my mood, hungry, and gloriously awake. In solitude yet not alone, I watch as though unraveling in stages, the radiant sunrise exposes dawn's flaming ocean porch. Its dependable morning splay assures me of this quest I wear wholly upon my countenance rising from within. Aloha!
THE CONCEPT – I invite you into the gateways of the uplands before you. The wild uncharted regions of your business boldly ascending into the future. Go ahead - begin to traverse the strong-current river crossing toward future-proofing your company. No, it's not about websites, it's about online business. Gaining the rewards by moving your company into online activity must become your most urgent pursuit. Online business and digital marketing involves content that tells your unique entrepreneurial story. That's what customers love to believe in.
---